Weddings
Congratulations on your engagement!
Consider us for your Santa Cruz wedding cake needs. With us,
you are able to mix and match our tiered cakes, cutting cakes, cupcakes, assorted desserts & more.
Email events.scbuttercupcakes@gmail.com for more information. Or use the button below to schedule a tasting!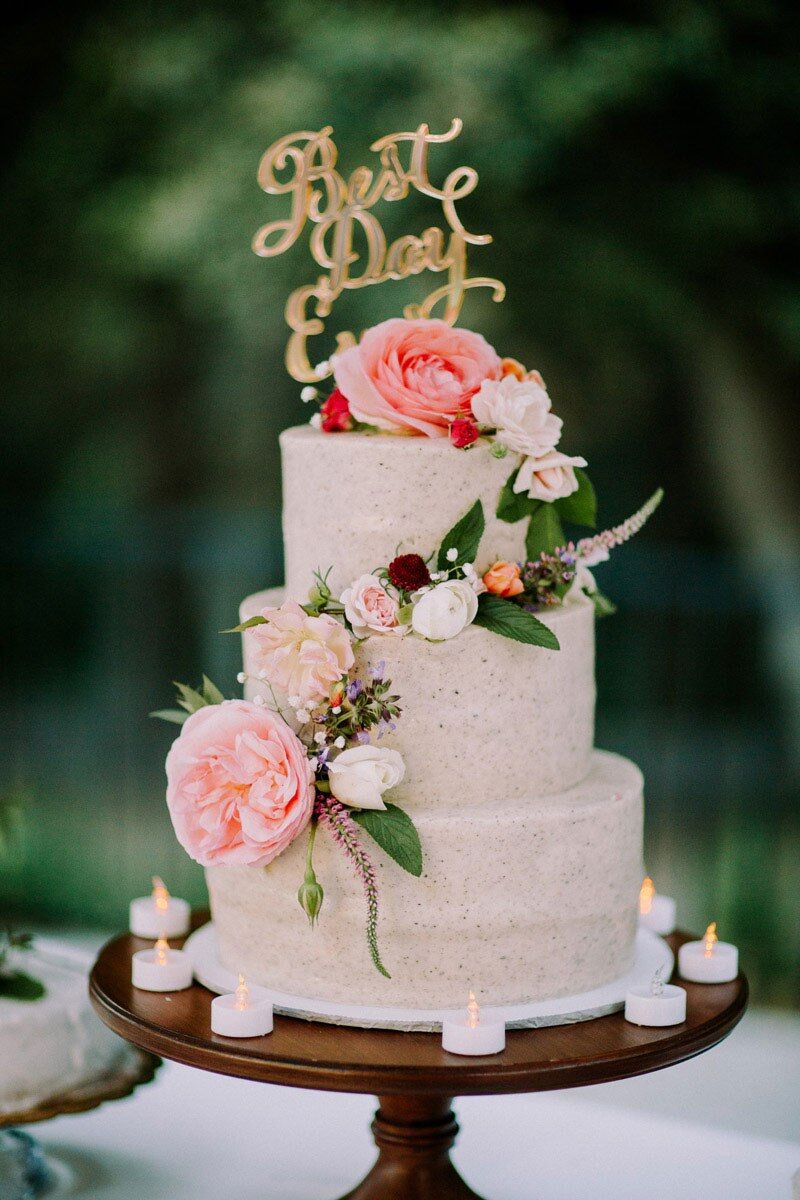 Turn your favorite cupcake flavor into a cake! We offer stacked cakes, cutting cakes, and more. Call to reserve a cake tasting.
Our cupcakes love to be on display.. Use a cupcake display for a modern twist on a traditional wedding cake. We can display our cupcakes on tiers, wood rounds, silver platters, glass cake stands, and more.
Assorted desserts
We offer mini cookies, bite-size brownies, lemon tarts, and more.
Rentals
Choose from our selection of hand-cut wood rounds, cupcake stands, silver platters and glass cake stands.
Delivery/Set up
We offer both delivery and set up to almost all locations in the greater Bay area.
Frequently Asked Questions
First Steps:
Q: How do tastings/consultations work?
A: Consultations usually last about an hour. During that time, we will discuss flavor options, cake/cupcake display, numbers, delivery and set-up, and cost. You may bring as many, or as few people as you would like. We encourage the customer to have pictures or physical examples of patterns, flowers or other types of the wedding's aesthetic or theme. Everyone who comes is welcome to try as many cupcakes as they would like. After the consultation is over, we will discuss a final cost/quote. At that point, you can choose to put down a non-refundable less hold deposit of $100 to secure the date, and your tasting is complimentary. OR you can pay for the cupcakes that you tried during the tasting and we'll keep your information on file.

Q: How many cupcakes do you suggest per person?
A: We generally suggest 2 per guest, but if you have more indulgent guests, definitely consider 3 per guest, or more!

Q: How does cupcake pricing work?
A: Cupcakes (including gluten-free and vegan) are priced at $2.25 each for minis and $4.50 for regular size, no matter how many you order.

Q: Is there a discount for ordering in bulk?
A: Mini cupcakes are $2.25 each and regular size are $4.50, no matter how many you order. We hand decorate each and every cupcake, and the ingredients are still top notch.

Q: How does tiered cake pricing work?
A: Tiered cakes start at $8 per guest and go up from there based on decoration and flavor.

Q: Are there any restrictions on decoration?
A: We do not use fondant, gum-paste, or artificial coloring or flavoring. All of the colors we utilize are directly related to the flavor of the cake and/or frosting. (For example, if earl grey frosting, which utilizes real earl grey tea and bergamot oil, is used, then the frosting will have grey speckles in it).

Set-Up, Delivery and Day-Of:
Q: What does set-up include?
A: Set up starts at $75 and is usually a one to two-hour process that starts with us placing each individual cupcake in its perfect spot. We tend to create patterns, symmetry (or asymmetry) and height dimensions with displays provided by the guest, or by us. Uniformity and balance are important to us, and we wish to emulate creative designs, as well as the overall aesthetic. We have special cupcake tongs that allow us to be very delicate and exact, while handling the cupcakes, without compromising the decoration.

Q: Do you deliver and is there a delivery fee?
A: Yes, we charge $45 per hour (there and back) for delivery. We have a refrigerator truck, which helps the cupcakes and cake stay cold during transit, ultimately prolonging the longevity of their decoration.

Q: What is expected of me day of?
A: We try to make the day-of as easy as possible, for everyone involved. All we ask is that the table that we are setting up on is ready with any linens and MUST BE in the shade. We will place any other flowers, signage or wedding cake toppers after the set up is complete.

Last But Not Least:
Q: When is the final payment due?
A: The final payment, and therefore all adjustments should be finalized at least 2 weeks before the event. Additions are the only changes that can be made after the final payment has been processed.

Q: What if my guest number changes?
A: If your guest number changes, you can always change your order to reflect that. If your deposit has already been paid, but your final payment has not been, then subtractions or additions can be made. After the final payment is made, ONLY additions can be made to the order.

Q: Do you rent display items?
A: Yes, we have a large array of items that can be used to display your cake and/or cupcakes. Please inquire and we would be happy to help you plan a beautiful dessert display.

Q: Do I need a rental agreement?
A: If you are renting any sort of display or any other rental item from us, then you need a rental agreement. We do ask for our rentals back within 48 hours, but pickup can be arranged for an extra fee.
Santa Cruz Wedding | Wedding Cake | Dessert Bar | Tiered Cakes | Organic Desserts | Vegan and Gluten Free Cake | Sustainable